2020 – Program postponed
due to corona/COVID 19
2019 Awardees
Fana R HaileSelassie & Serena A Hughley; both of Spelman College, Atlanta, GA; with Her Britannic Ambassador Extraordinary and Plenipotentiary to the Kingdom of Sweden, His Excellency David Cairns.
2018 Awardees
Samuel G Royko of Georgetown Law, DC; and Erin Groble of Loyola University Chicago, IL; with Urban Ahlin, Speaker of Swedish Parliament.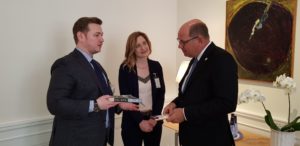 2017 MILE Awardees
Swapanthi Mandalika and Samantha Pereira of San Jose State, CA, with Secretary of Defense Peter Hultqvist.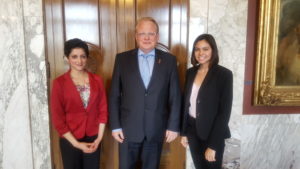 2016 MILE Awardees
Natalie Coconubo and Meschelle Noble of San Jose State, CA, with Speaker of Swedish Parliament Urban Ahlin.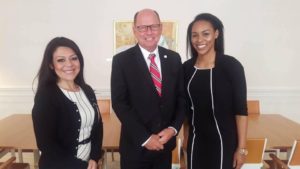 2015 MILE Awardees
Afshin Najafi and Rashmeen Kaur of San Jose State, CA, with First Deputy Speaker of Swedish Parliament Tobias Billström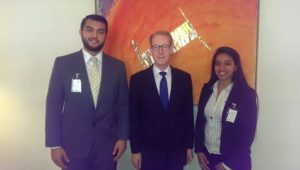 2014 MILE Awardee
Andrew Tokarek of San Jose State, CA, with Swedish Prime Minister Fredrik Reinfeldt